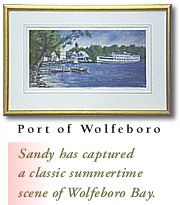 2014 Gallery Open House
Welcome to the 6th annual Sandy Martin Gallery Open House!
Saturday, May 24, 2014
4pm – 6pm
This year's entertainment features students and faculty of The Wolfeboro Institute of the Arts.
Featuring the 2014 Impressionist Watercolor and Oil Paintings by gallery owner Sandy Martin

New photographs by Bruce Taylor, Ashton Woodhouse, George Paton, Richard Seeley, Neil Rennie, David Winchester, and Dan Spendolini.

Bronze Sculpture by Charles Hahn

One of a kind jewelry by Linda Austin and Laura Eva.

Wine Social and Hors d'oeuvres by Lauren Taylor
"Tranquility", a watercolor, 11" x 15", representing a passageway for canoes on beautiful Lake Wentworth. Prints are available.

The Sandy Martin Gallery, an Artist-owned New Hampshire Gallery
Sandy Martin's work is hung in private and corporate collections internationally. Her professional fine art career began in Rockport, MA and included studies in New York City and Paris.
Sandy currently exhibits paintings at the Sandy Martin Gallery, 15 South Main Street, Wolfeboro, NH 03894.
Sandy is available to do a limited number of private commissions a year.
(603) 569-9890
Studio2w@hotmail.com
Through her web site studio, Sandy is offering Limited Edition prints, "Port of Wolfeboro", "The Boston Skyline", and several original oil paintings for sale.
"Triple Cockpits", 2' x 4' oil painting representing the "Opening Ceremonies" of the New Hampshire Boat Museum's bi-annual regatta in Wolfeboro Bay. Archival prints on canvas are available in different sizes. The boats represented are Chris Craft, Garwood and a Hacker Craft.
"Winnipesaukee from the Castle" is a 3' x 4' oil painting depicting the view of Lake Winnipesaukee from the Castle in the Clouds, in Moultonboro, NH
"Lake Winnipesaukee Map"
original oil painting, 20" x 30"